December 23, 2006 —
Merry Christmas Everyone from Trouble and Surprise!
Believe it or not they will be 8 months old in a couple of weeks. They are coninuing to grow like little weeds and are closing in fast on the other foals from this year. The pictures I've included are with Lindsay so you will really be able to get an idea of how big they are. Lindsay is just 5 feet tall and they are beginning to dwarf her. I've included two pictures this time so you can get an idea of how they felt about my Christmas inspiration. I mean really, don't you think it would be some kind of crime to have twins and NOT take their picture at Christmas time with Santa hats!
The first hats Dave and Lindsay came home with were way too small and I couldn't even keep the hat on the first one while I was putting the hat on the second one. They barely fit over one ear. It was kind of funny to see Trouble shake his head and have that hat spin around on his ear but I can assure you, he was NOT amused. He bit me! Not hard, just enough to show his displeasure. Now Surprise, she acted like she might actually like the dress up thing but the fit was just not quite right to her way of thinking. She cocked her head back and looked straight down her nose at me with this expression that said, "FIX this thing!" So we bagged those hats and were off to the store for larger ones.
This time I sewed elastic into them, like for party hats, so I could keep them on long enough to get a picture. Trouble immediately showed his displeasure by going over to nurse. We grabbed him long enough to get our pics but it was quite a trick getting Trouble, Lindsay and Surprise all facing the same direction, let alone looking the way they were supposed to. The pictures tell the story. I didn't send the ones of Trouble with his hat hanging under is throatlatch. He managed that with one quick shake of his head right after picture number 4. From there is all went down hill, but we laughed a lot so it was worth it. When we took the hats off, Surprise bucked her displeasure all the way around the stall. She really does think she's a princess and that hat suited her, she thinks. Trouble raced along with her bucking and kicking as well, but I'm pretty sure he was expressing his displeasure at being humiliated in the first place!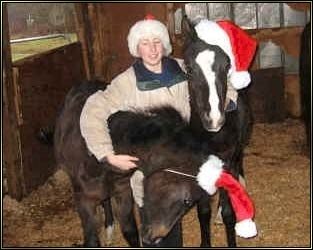 Then, to make matters worse, once I took their hats off, I also took their mom! They were not happy campers. Trouble walked around the stall on his hind legs screaming his lungs out and pawing the air. Both made several attempts at charging the door to see if they could bluff me into opening it, but that didn't work and neither is quite big enough to go over the top yet. That only convinced me that it's a good thing I do this now before they do get big enough to leap over the door. I'm pretty sure from what I saw today that they would be trying that if they were bigger. I'm pretty sure both will be hoarse by morning. Vee, on the other hand, seems to be happy to be rid of the little monsters! I'm sure as her udder gets uncomfortable she will complain some but she's definitely ready to be free of those two and from my point of view, we'll be able to save the little bit of mane she has left! We finally did catch Trouble chewing on it, the little varmit! She started off with a flowing mane that went all the way down her shoulder, now she has this scruffy, patchy thing that will take years to grow out. BOYS!
A picture of the twins has been included in a 2007 calendar that is being offered for sale as a fundraiser on Marestare. If you'd like one you can get them through this link. I'm not sure which picture that they used but I sent them a number that no one had seen and my calendars have not arrived yet.
We're still trimming them every couple of weeks and their legs are getting better and better. They are really good with the farrier but he's fast. The adjusting stuff the vet does takes much longer and they run out of patience and protest before we're done. I'm pretty sure it doesn't help that we laugh at them, but it's really hard not to.
So, again, Merry Christmas from the twins and everyone here at Rising Rainbow Arabians.

Twins Archive 2006:
May 10 | June 27 | July 20 | Sept. 1 | Oct. 29 | Dec. 23
Twins Archive 2007:
Jan. 24 | Mar. 12 | June 25

Rising Rainbow Arabians
MiKael and Dave Caillier
9900 288th Street East
Graham, WA 98338
Phone: (253) 846-1597
E-mail:
[ ][ ][ ][ ][ ]
[ ][ ][ ][ ]