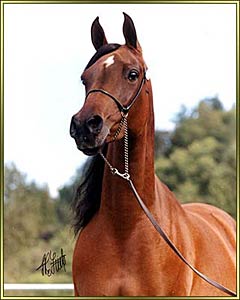 From the moment I laid eyes on her, Scandalous had my heart. She was everything an Arabian mare should be and so much more. Her beauty, quality, substance, type and conformation were true to the breed standard and exemplified the very best of her pedigree. Her kind disposition would have made her a gracious guest in the Bedouin tents of old. Her loyalty and heart were fierce as the mightiest of warriors. Then to have all of these wonderful characteristics be prepotent made her the kind of mare that legends are born of.
But Scandalous was more than just an outstanding broodmare, she was my hope. She gave me the courage to rise out of the darkness, like the rainbow rises from the storm. She spoke to some part of my soul and inspired me to reach for what I had only dreamed of. She comforted me when I faltered. She forgave me when I disappointed her. She consoled me when I couldn't face the day. She gave me the faith to keep trying even though the path was long and hard. She was my friend.
Scandalous only had 3 foals before we lost her. The first, Aidol, was only shown one season as a 3-year-old — Reserve Champion Daffodil Western Futurity, Top Five Region V Western Futurity, Region IV Top Five Western Pleasure Junior Horse and Region IV Top Five Western Futurity. The second, Scandal Sheet, was shown for 4 years while he battled an undiagnosed case of EPM and yet he was consistently in the ribbons including Region V Top Ten Bonanza. The third is Scandalous Legacy ("Legs").
To this day, that first memory of her is etched in my mind's eye and, of course, joined by a multitude of others. But none is as strong as that first glimpse of the mare that changed my life. Not a day goes by that I don't look upon her legacy, and I am reminded of her and the gifts she's given to me...and to the Arabian breed.
Scandalous
Bay Mare, May 11 1981, AHR*239909

Country Heir

*Bask

Witraz
Ofir
Makata
Balalajka
Amurath-Sahib
Iwonka III
Country Belle
Handeyraff
*Raffles
Hanadina
Zorille
Imaraff
Fanada
Latoura Dare
Gai Latour
Gai Parada
Ferzon
Azleta
Ferzona
Ferzon
Raffwe
Dare
*Serafix
Raktha
Serafina
Virginia Dare
*Serafix
Sedi Sedjur
Rising Rainbow Arabians
MiKael and Dave Caillier
9900 288th Street East
Graham, WA 98338
Phone: (253) 846-1597
E-mail:
[ ][ ][ ][ ][ ]
[ ][ ][ ][ ]