Click on photos to enlarge and view photo gallery
(photos by Jeff Little Photography and Jay Goss)
1996 Bay Stallion
Sweepstakes Nominated
SCID Clear
$2000/$1500 Breeding Fee
Shipped Semen Available
Region 4 • Top Five Western Pleasure Select Rider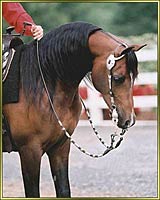 Scandalous Legacy (known to his friends as "Legs") is a 1996 Bay Arabian Stallion by multi-National Champion, GS Khochise, and out of Scandalous (Country Heir x Latoura Dare). He began his successful show career very early in Halter. As a weanling he was named the Daffodil Summer Show Reserve Champion Colt. As a yearling he was Top Ten Sweepstakes Colt in Region 17, and as a two-year-old he garnered the title of Region V Amateur Futurity Champion Colt. He was the Champion Stallion at the SWAA All Arabian Horse Show in Ridgefield. And for 2001 he was Senior Champion Stallion at the prestigious Daffodil All Arabian Show.
Now, he leaves the realm of Halter and begins his new career in the highly competitive Western Pleasure Open and AAOTR 40 & Over divisions, being trained by his amateur owner. His kind, willing disposition makes him a suitable prospect for her first venture training a stallion.
Bred to produce, he is making his mark on the Arabian breed. He is consistently producing foals with presence, quality, substance, type, beauty, size, straight legs, athletic ability and trainable attributes. An absolute breeder's dream, he has improved on every mare. He stamps his get with large, beautiful eyes, teacup muzzles, short, typey heads that are wide in the branches and have the chiseling you'd expect in living art. And not just a pretty face, his get have remarkable talent. Visitors at Rising Rainbow Arabians are constantly blown away by the incredibly high caliber of horses produced by this stallion—not just a trendy horse, but a horse of integrity; true mirrors of our breed standard.
If dreams of a special, wonderful Arabian foal are dancing in your head, or for more information, video, etc., contact MiKael Caillier.
Scandalous Legacy
Bay Stallion, May 22 1996, AHR*531560

GS Khochise

Khemosabi

Amerigo
Ferseyn
*Szarza
Jurneeka
Fadjur
Fadneeka
Beau Cherie
Comar Bay Beau
Azraff
Rose of Mirage
Butterfly
Nadirs Sedjur
Gezanteza
Scandalous
Country Heir
*Bask
Witraz
Balalajka
Country Belle
Handeyraff
Zorille
Latoura Dare
Gai Latour
Gai Parada
Ferzona
Dare
*Serafix
Virginia Dare
Foals of Scandalous Legacy
If you want to see what this incredible stallion can produce for you, click here to view some of his foals for sale or here to visit his foals in our photo album...
Rising Rainbow Arabians
MiKael and Dave Caillier
9900 288th Street East
Graham, WA 98338
Phone: (253) 846-1597
E-mail:
[ ][ ][ ][ ][ ]
[ ][ ][ ][ ]